Talent
Why You Need a Mentor No Matter Your Career Stage
The Secret to Success in Your Career Journey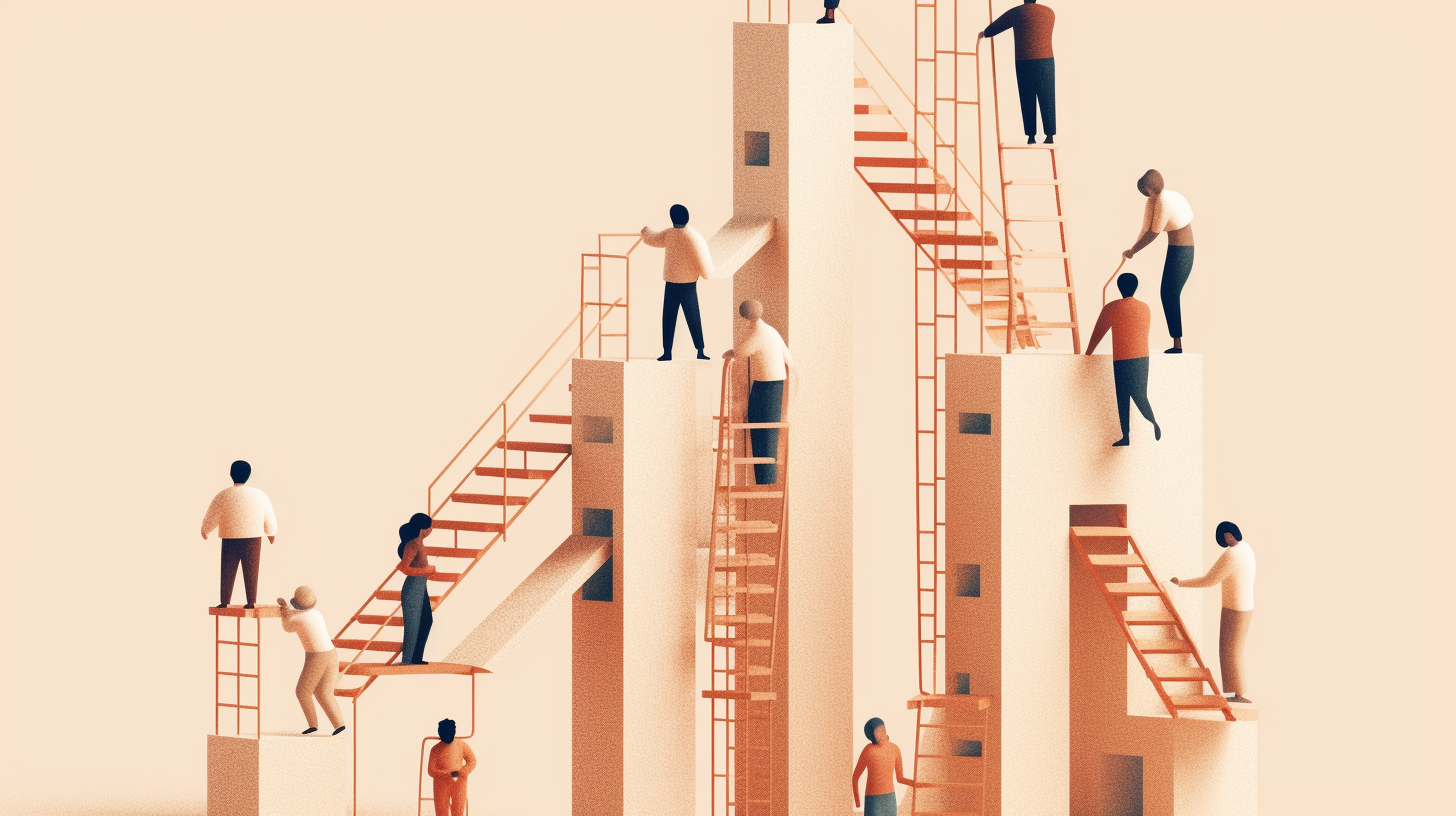 Mentorship has long been essential to professional development, and the UX field is no exception. Broadly, a mentor is an experienced and trusted individual who offers guidance, support, and encouragement to help others grow and develop their skills, knowledge, and abilities. A mentor can take many forms, such as peers, managers, paid consultants, career or executive coaches, business advisors, or even whole communities.
Mentors can give valuable insights into the industry, help you develop new skills in your specific field, and give you the confidence and motivation to excel in your craft. A mentorship relationship can also expand your professional networks and provide invaluable guidance and support that can significantly impact a UX professional's career trajectory.
In this article, we will explore why having a mentor is incredibly beneficial to UX professionals, why even UX leaders and managers need mentors, how to find the right mentor, and how to maintain that relationship long-term.
At Academy, we offer our talent network complimentary mentorship and feedback to help them achieve their fullest potential, guided by actual industry experts. Click the link below to learn more about what we can do for you!
I also like to highlight that I offer UX leadership coaching and advisory services If you're interested, you can check them out here:
The Benefits of Mentorship
A mentor's #1 goal is to share their wisdom to benefit a mentee's professional—and personal —growth, so they reach their full potential. With this in mind, it's clear that working with a mentor can benefit you as a UX professional.
Whether you're new to the game or an industry veteran, working with a mentor can:
Give you valuable insights and knowledge
Mentors share their wealth of experience and industry know-how, helping you avoid common pitfalls, learn best practices, and understand the nuances of your field. Their years of experience in the area are a valuable resource as you navigate compensation, career growth and transitions, how to manage industry changes, and more.
Expand your professional network
Mentors can introduce you to their contacts, opening doors to new opportunities, collaborations, and potential clients, which can prove invaluable for career advancement and growth. If your mentor is someone you've worked with, they can likely serve as a reference for job opportunities.
Give you guidance and support
A mentor can offer objective advice, help you navigate challenges, and provide support during difficult times. This support can look like overcoming massive obstacles together or having someone to bounce ideas off of when you need them.
Help you develop new skills
Mentors can help you identify areas for improvement and recommend resources, tools, and techniques to enhance your skill set. They can also provide constructive feedback on your work, so you're constantly refining your abilities.
Build your confidence
A mentor's encouragement and belief in your potential can bolster your self-confidence, resilience, and motivation by recognizing your strengths and celebrating your successes.
All of these benefits are important when starting your UX career. Still, the mentor-mentee relationship remains essential as you move into supervisory, management, and leadership roles. The challenges and goals may change, but a relationship with a trusted advisor always retains its value.
How to Find the Right Mentor for Your Goals
Remember that most mentor-mentee relationships come about naturally. You don't necessarily need to ask someone to be your mentor. You can start by simply reaching out to people in your network who you think can advise you about a particular subject and let the relationship grow from there.
We'll cover some venues for finding a mentor but try not to stress about the formality of it all. Instead, focus your energy on identifying what you're hoping to gain through mentorship, then seek out people who might be able to provide guidance in that area.
Coming to the conversation with clarity around your goals is crucial, so you'll want to take a little extra time to think through this first step.
Step One: Identify What You're Looking for in a Mentor
As with most pursuits, clarifying your objectives is key to success. Consider what you hope to achieve through mentorship, such as refining specific skills, gaining industry insights, or expanding your professional network.
Consider your past professional relationships with teachers, bosses, colleagues, or when you've mentored someone. What worked for you in those situations? What would you have done differently or asked for that you didn't? Was the relationship mutually beneficial or a one-way street?
"Make sure that the mentor is aligned with your stage and with your goals."
—Ioana Teleanu, Senior Product Designer at UiPath and UX Goodies on Instagram
Defining what you want to get from a mentorship relationship can help you more efficiently search for a mentor who can provide the support you need at your specific career stage.
There are no hard-and-fast rules about choosing a mentor for your career stage. Still, they don't necessarily have to be an executive or industry leader to be a great mentor. Someone just three-to-five years ahead of you in your career will have more practical advice about the day-to-day realities of your role than someone many years your senior may have.
Step Two: Research Potential Mentors
Once you understand your goals and needs, it's time to research potential mentors with a strong track record in UX, digital products, or any fields you think will benefit your career and who you think might have the qualities you need in a mentor.
Finding the right mentor may require exploring various avenues. Here are some potential sources to consider:
Through online slack and discord communities like Design Leadership Forum, Mixed Methods, DesignOps Assembly.
Professional networks and associations, such as User Experience Professionals Association (UXPA) International and Interaction Design Association (IxDA)
UX Industry conferences and events
Online website communities like LinkedIn, Behance, Dribbble, and Instagram
Free mentorship websites such as ADP List and paid websites such as Mentor Cruise
Mentoring programs through your coursework, boot camp, or company
Alum networks from your educational institutions
Recommendations from colleagues, friends, or family members
Paying for a business advisor or leadership coach you can see my personal services here.
Step Three: Reach Out and Initiate Contact
After identifying a potential mentor, craft a thoughtful and professional email or message them on LinkedIn. In your message, you'll want to introduce yourself, express your admiration for their work, and explain why you believe they would be an excellent mentor for you.
Be specific about your goals and aspirations. Respect their time by suggesting a brief initial meeting or phone call to discuss the possibility of future mentorship.
If a potential mentor declines, don't be discouraged! Remember that mentoring someone is a time commitment, and they may not have the bandwidth to devote time to a mentee. Politely thank them for their response and move on to another potential mentor.
Step Four: Build a Strong Mentor-Mentee Relationship
A successful mentor-mentee relationship is built on a foundation of trust, respect, and open communication. Be honest with your mentor about your needs and goals, and actively listen to their guidance. Show appreciation for their time and effort by applying their insights to your work and keeping them updated on your progress. Remember that mentorship is a two-way street, so be prepared to offer your support and insights when appropriate.
The hunt for a mentor can be time-consuming, but the impact of a great mentor on your career, network, and professional toolkit is unmeasurable. Keep an open mind, be willing to explore various sources for mentorship, and don't be shy about reaching out. You never know where you might find your perfect mentor!
Maintaining the Mentor-Mentee Relationship Long-term
A mentor-mentee relationship can be an enriching experience for both parties, requiring work and dedication from both sides to succeed. By following these tips, you can ensure that your mentor-mentee relationship is solid and long-lasting.
Set clear expectations and goals.
Just like you did when initially identifying your goals and needs for finding a mentor, you must align with each other on the specific expectations and goals you have for the mentor-mentee relationship on-going. This alignment discussion should include topics like meeting frequency, communication preferences, desired outcomes, available resources or support, and duration of the mentorship relationship.
That said, situations often evolve, which may require adjustments in expectations, goals, or even the frequency of meetings. As such, both parties must remain flexible about changes to ensure a positive experience for all involved.

Both parties must understand their respective roles and responsibilities and any boundaries that may exist in the relationship. Establishing limitations within the mentor-mentee relationship helps to create an environment of mutual respect and trust, which is essential for long-term success.
Communicate, communicate, communicate.
Effective communication allows for open dialogue between the two parties to address problems quickly and efficiently. It is essential to maintaining a successful mentor-mentee relationship long-term.
Establish up-front that questions, concerns, and feedback can be discussed freely without judgment or fear of repercussion. This line in the sand will help strengthen the mentor-mentee relationship by allowing both parties to express themselves openly and honestly without feeling intimidated or embarrassed.
Have regular meetings or calls where you discuss progress on objectives or goals. These conversations should also include honest assessments of how each person feels about their progress in the mentor-mentee relationship and areas they would like to focus on.
It's important to remember that effective communication does not mean just talking at someone. Listen closely to their ideas and guidance, ask questions that allow further exploration, and provide appropriate feedback if needed.
Finally, respect is critical. Acknowledge different points of view while respecting each other's boundaries. This will help build trust over time and establish a relationship built on mutual respect and understanding.
Show appreciation.
Gratitude and appreciation are essential for any successful, long-term relationship, and the mentor-mentee relationship is no different. Both parties must recognize the effort put into the relationship and express their thanks whenever possible.
Mentors should acknowledge the progress mentees have made, while mentees should be sure to thank mentors for their time and guidance. If appropriate, you might express appreciation through small tokens of gratitude, such as a handwritten note or gift card.
Honor your mentor's time and expertise.
Respect for the mentor's unique perspective and knowledge is paramount. You should understand your mentor's professional background, experience, and expertise and come prepared to each meeting with questions or topics you want feedback on to use your mentor's time wisely.
"Each experience was valuable, and I have cherished the conversations that I've had, even if I didn't agree with the feedback or stored it for a later date."
—Patrick Neeman, Head / VP of User Experience and Research at Evisort on his experiences as a mentee
Mentors often provide mentees with new tools and resources, such as books or articles, that further develop the mentee's understanding of relevant topics. In these cases, following up on those recommendations for your next meeting is important. Take notes during your conversation, so you can find that book title or watch that lecture your mentor suggested later.
You should always be prepared for each meeting and show up on time to avoid disrespecting your mentor's schedule or taking away from other activities during those time slots. By respecting one another's time and effort throughout this process, both parties can ensure a successful long-term relationship built on trust and mutual respect.
Finding and maintaining the right mentor relationship is a journey that requires self-reflection, research, and persistence and can be immensely beneficial for UX professionals. From skill development and networking to career planning and emotional support, a mentor's guidance can completely transform your career.
At Academy, we provide free mentorship to our talent network to ensure that each individual can reach their full potential—both during and after their contract engagements. Our team offers guidance, advice, and support, helping UX professionals to understand their industry and develop their skills. Contact us to learn more about joining our talent network.