Resources
Where to Build Your UX Portfolio
5 Common UX Portfolio Mistakes and How to Avoid Them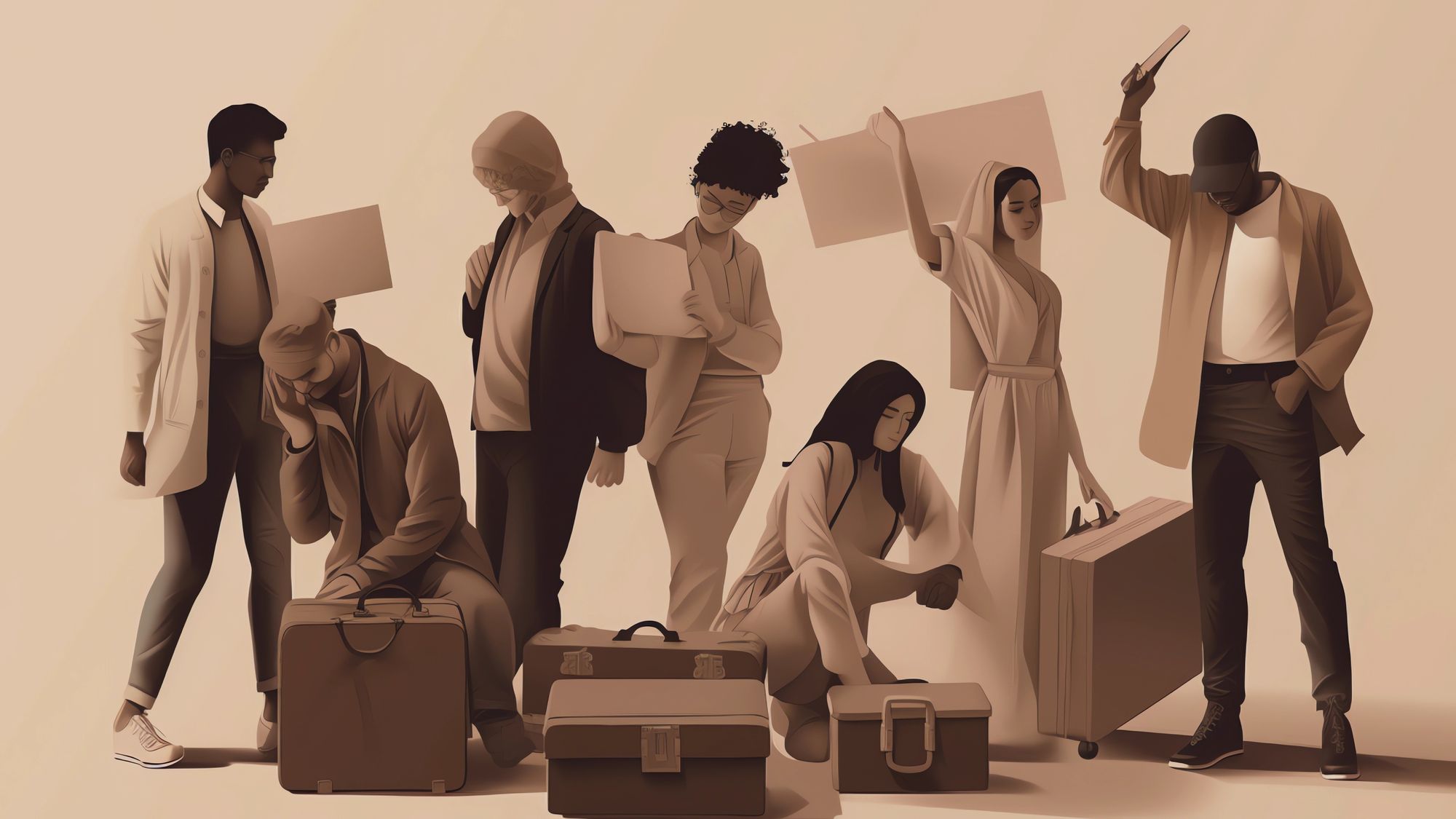 A UX portfolio is arguably the most important thing in any UX professional's toolkit when it comes to landing a great job, attracting clients, and showcasing expertise. We recommend creating an easy-to-maintain, well-curated, and thoughtful UX portfolio, so you're ready for anything. Here we'll discuss the options available for building a great UX portfolio and the pros and cons of each.
But first, there are a couple of basics to consider:
Keep it simple. The less coding you have to do, the better. Choosing a platform with little-to-no coding requirements should be at the top of your list of requirements. Simple and done are always better than complex and half-done.
Follow UX best practices. Whatever platform you choose, ensure the user experience is excellent across various devices and operating systems. There's nothing worse than a UX portfolio with a terrible user experience. UX is an integral part of every product—even your personal brand—so it's essential to ensure the user experience is always top-notch.
"You're the product. Your portfolio is just packaging."
— Jessica Ko, CEO of Playbook
Sharing your work
⚖️
Please note that this is not legal advice. Always consult with the involved parties, such as project owners or attorneys, to ensure that you are adhering to any applicable NDAs and confidentiality agreements.
Creating a UX portfolio is essential to demonstrate your skills and experience. As UX professionals ourselves, we understand the importance of being able to share your work, provided it does not violate any laws or contracts. While we believe that publicly available work should be allowed to be shared, it is essential to acknowledge that not all companies agree with this viewpoint. Therefore, maintaining privacy and adhering to non-disclosure agreements (NDAs) is crucial. In this article, we will discuss six different levels of privacy to help you share your work responsibly while respecting confidentiality agreements.
Publicly Publishing Your Work:
The least secure option is to publish your work publicly on your website. This approach might be suitable for projects without NDAs or sensitive information. However, it's essential to verify that you have the proper permissions before sharing.
Password-Protected Projects:
To enhance privacy, consider making your work accessible only through a password-protected page on your website. This method allows you to share your work with specific individuals while keeping it hidden from the general public.
Obscuring Project Details:
In addition to password protection, consider obscuring project details, such as company names or sensitive information. For example, instead of specifying the company's name, you could refer to it as "A top 3 search engine company."
Request Access Button:
To exert more control over who sees your work, include a "Request Access" button on your website. This option enables you to share a private presentation link with selected individuals, ensuring that only authorized people can access your work.
Video Call Presentation:
If your work is under a strict NDA, consider offering a video call presentation. Make it clear to interested parties that you can discuss the project in a video call and request that attendees do not take screenshots. A further level of security may be to ask them to sign an NDA themselves. This approach allows you to share your work while maintaining a higher level of confidentiality.
Not Sharing Sensitive Work:
Sometimes, it's best not to share specific projects at all. If revealing your work could potentially jeopardize government secrets, damage a company's reputation, or compromise its competitive advantage, we advise against sharing it under any circumstances. Use your judgment to determine whether showcasing a particular project is appropriate.
Balancing the need to showcase your work with maintaining privacy can be challenging. By considering these six levels of privacy, you can make informed decisions about how to share your projects responsibly. Always consult with the involved parties, such as project owners or attorneys, to ensure that you are adhering to any applicable NDAs and confidentiality agreements.
Portfolio Presentation
Presentations built with Canva, Google Slides, Keynote, or PowerPoint to showcase your UX portfolio can be a dynamic and engaging way to highlight your work, allowing you to explain complex concepts simply and clearly. By utilizing visuals, you can demonstrate how you solved problems and give viewers a better understanding of your process.
A portfolio presentation built with interactive visuals and animations (used sparingly and with purpose) can help engage your audience and be used to explain complicated concepts or processes visually, making it easier for potential employers to understand your work quickly. Presentations are generally easy to create, and templates are available for free or purchase to simplify the process.
Presentations are popular because they offer great flexibility. They are easy to create, change and tailor for your target audience, and a simple leave behind that can be shared with others. Pairing a presentation with website content is always a wise move - it's an effective way to elevate your message and connect with your audience.
Each platform for building presentations offers various options for design, with Canva and Figma having the most font and customization options. That said, with portfolio presentations, you'll want to keep display quality in mind, too. How many times have you designed a beautiful Keynote only to have a Windows machine replace all of your carefully selected fonts?
The option to publish slides as a web-based presentation, as with Canva, means fewer variables when it's time to display your work. Figma is another option for building interaction-rich, browser-based portfolios, but the load times can be unpredictable, and we generally don't recommend going that route for display purposes as the interface can be a bit clunky.
Personal Website
Creating your own website with a dedicated domain is an excellent option if you want complete control over your UX portfolio's design and functionality. You can showcase your work in the form of images, prototypes, case studies, and even blog articles, providing detailed insight into your process and ideas for improvement.
We recommend user-friendly tools like Webflow, Squarespace, Framer, and WordPress, to avoid excessive coding requirements and guarantee a quality end product. These platforms are easy to use, offer clean, responsive-ready templates, and include add-ons for optimization.
Getting lost in the details of designing your personal website can be tempting. If you get wrapped up in these things, consider starting with a template and going from there. You can always refine and revise as you go, and you'll have a website that's already finished and looking great.
Suppose your work can't be publicly shared. In that case, we suggest building a PDF, Canva, or Google Slide presentation with managed permissions or embedding these assets behind a login on your site. These assets can be shared with potential clients and employers without unnecessary attachments and storage locations.
Though we see it often, we don't recommend using Notion to build your portfolio website. Your portfolio is a chance to stand out, and Notion standardizes the design, making it hard to distinguish you from the rest. Your portfolio website is a chance to show a hiring manager the amount of attention to detail you put into your work and—potentially—theirs. A run-of-the-mill portfolio site is far less likely to stand out in their mind than a custom portfolio site.
A personal website is a great way to showcase your UX portfolio, as it's accessible from any device or operating system, and potential clients and employers can find your work through search engines. Websites are also easy to share via email and social media, and building your own website allows you to showcase your work in a consistent way and control the navigation to and from each page. Just make sure your website is optimized for mobile in case anyone is checking it out on their phone.
Portfolio-specific Platforms

Creating an impressive design portfolio is essential for showcasing your work and attracting potential clients or employers. Selecting the right platform for your needs can significantly impact your portfolio's success. In this section, we will discuss several factors to consider when choosing a platform, such as speed to launch, high-quality designed templates, strong SEO, high Google Lighthouse scores, customizability, community involvement, and improved findability.
Speed to Launch
A user-friendly platform with a quick setup process allows you to launch your portfolio in no time. Look for platforms with intuitive interfaces, drag-and-drop functionality, and a wide range of templates to ensure a fast and hassle-free launch.
High-Quality Designed Templates
Choose a platform that offers professionally designed, visually appealing templates. High-quality templates will enhance your portfolio's appearance and make your work stand out. Some platforms, like Webflow, Squarespace and Framer, are known for their stunning templates and user-friendly customization options.
Strong SEO
Search engine optimization (SEO) is essential for increasing your portfolio's visibility online. Select a platform that offers built-in SEO tools, such as customizable metadata, sitemap generation, and URL structures. Platforms like WordPress and Webflow provide advanced SEO capabilities that can help improve your portfolio's search engine ranking.
High Google Lighthouse Scores
Google Lighthouse is an open-source, automated tool for improving the quality of web pages. A high Lighthouse score indicates better performance, accessibility, and SEO. Consider choosing a platform that focuses on optimizing these metrics to ensure your portfolio meets industry standards.
Customizability
Opt for a platform that allows you to customize your portfolio to match your brand and style. This might include custom domain names, color schemes, fonts, and layouts. Platforms like Cargo and Format are specifically designed for creative professionals, providing extensive customization options for a unique portfolio.
Community Involvement
Platforms like Behance and Dribbble offer a community aspect that allows you to showcase your work, discover other designers' projects, and network with professionals in the industry. Being part of such a community can help increase your exposure and find new opportunities.
Improved Findability
Consider choosing a platform that enhances your portfolio's findability, making it easier for potential clients or employers to discover your work. Platforms with a strong community presence, built-in SEO tools, and high Google Lighthouse scores can contribute to improved findability.
You may want to consider pairing platforms together. For example, you could build a website to host your portfolio and resume but link out your Dribbble and Behance. This will help you cover your bases in multiple areas. Remember that recruiters and hiring managers spend all their time on LinkedIn, Dribbble, Behance and communities so much sure you have a presence in them all.
Ease of Updating and Maintenance
It's essential to select a platform that allows for easy updates and maintenance of your design portfolio. As a creative professional, you'll likely have new projects and experiences to add to your portfolio over time. Choose a platform with a user-friendly content management system that enables you to make changes and additions without any hassle.
Choose a platform with intuitive interfaces and straightforward processes for updating your portfolio. This makes it easier to keep your portfolio fresh and up-to-date, ensuring it always reflects your most recent accomplishments and work.
Avoid Coding Your Own Portfolio from Scratch
While building your own portfolio from scratch might seem like a way to showcase your unique style, it's often not the most practical choice. Coding a website from scratch can be time-consuming, and if you're not a web developer, it may not be the best use of your skills and resources.
Additionally, coding a website from scratch requires ongoing maintenance and updates, which can be challenging for those without a background in software development. This could ultimately take away valuable time from your core focus, such as seeking a role in a different profession or working on your design projects.
Instead, consider using a pre-built platform or template to create your design portfolio. These platforms offer a wide range of customization options that allow you to personalize your portfolio without the need for extensive coding knowledge. This approach saves you time and allows you to focus on showcasing your work and pursuing your career goals.
Here is a list of platforms we enjoy in order of preference:
Webflow - A web design tool that allows designers to create responsive websites without coding, suitable for creating design portfolios.
Squarespace - A user-friendly website builder that offers beautiful templates and design tools to create a professional-looking portfolio.
Semplice - A fully responsive portfolio system based on WordPress, tailored for designers, artists, and creative professionals.
ReadyMag - A versatile online platform for creating web publications, such as portfolios, presentations, and microsites, without any coding skills.
Framer - A prototyping tool for designers that also offers a platform for creating and hosting design portfolios.
WordPress - A popular content management system with numerous themes and plugins, allowing for the creation of customizable design portfolios.
Dribbble - A community of designers sharing their work, process, and projects in various design fields.
Behance - A popular platform for showcasing and discovering creative work, including design portfolios.
Adobe Portfolio - A platform that allows users to create personalized websites to showcase their creative work, integrated with Adobe Creative Cloud.
Cargo - A professional site-building platform for designers and artists to create custom portfolios.
Wix - A website builder with a wide range of templates and design tools, suitable for creating design portfolios.

No matter which platform you choose, it's important to remember that the purpose of the portfolio is to communicate clearly about the work you've done, the work you'd like to do, and how your process works. Next, we'll cover what needs to be included in any good UX portfolio.
---
At Academy, we work with our talent network to fine-tune their portfolios and help them land roles tailored to their skills and interests. Avoiding these five mistakes will go a long way toward finding your dream role. If you're interested in joining our talent network, head to our general application to apply.