Resources
Job Description Template
A well-crafted job description can make all the difference in attracting top talent to your company. Download our free job description template and learn how to write a job post that will stand out from the crowd.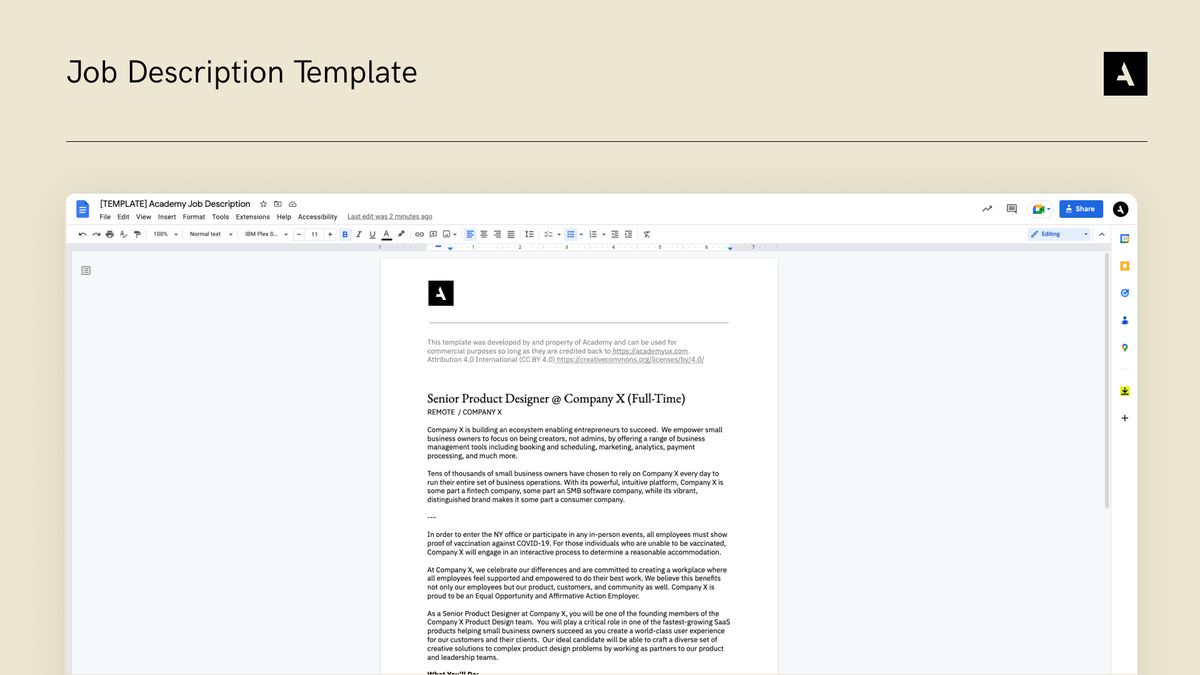 Write a compelling job description to attract top talent
The job description is one of the first things potential candidates will see when considering applying for a role at your company. It's a chance to make a great first impression and pique the interest of candidates who are perfect for the position. Unfortunately, many are written haphazardly, with little thought into how candidates interpret the work or imagine life at an organization.
It is vital to ensure job descriptions are written clearly and paint an accurate picture of the role and your company. This attention to detail will make your open role stand out from the crowded world of job searches and attract talented candidates who align with your team's mission and values.
Here's how to write an amazing job description:
Include a brief description of your organization and what makes it special. Be sure to give clear information about what your company does, company values, challenges your company is tackling, and any important company news. Don't forget to showcase your company's commitment to diversity, equality and inclusivity beyond the standard equal opportunity employer statement.
Including pay ranges. Not only is this good business practices but in some cases it is the law. Pay transparency has some important benefits for employees and their employers. For example, pay transparency has positive impacts on employees' perceptions of trust, fairness, and job satisfaction and has been found to boost individual task performance. The degree to which your organization is transparent will depend on their POV, but at a minimum you should make sure you're in compliance. We particularly love how Buffer has managed their policy.
Detail any must-haves vs nice-to-haves, including work authorization status, remote, hybrid or in-office policies, and necessary skills sets, but keep them limited. Instead of listing out numerous requirements, clarify and limit any nice-to-haves and include only the necessary requirements. When there is flexibility on qualifications, try to soften the language by using verbiage such as "familiarity with", "some previous experience in" or "basic knowledge of". This will encourage a full range of diverse and talented candidates to apply for your open positions.
Give a realistic job preview of what a "day in the life" looks like for this role. Detail the kinds of tasks this role will be doing and the environment where they would be working. It's a good idea to define this preview in illustrative sentences rather than just a list of tasks to give candidates a fuller vision of the role, but avoid using industry-specific, corporate jargon that may exclude a variety of potential candidates.
Avoid using gender-coded words. Gender-coded words, phrases, or traits mean they have historically been associated with either the male or female gender. Using masculine-coded words, for example, have been shown to discourage women from applying for jobs. Examples of masculine-coded words are competitive, aggressive, leader, and ambitious. A recent study shows that job descriptions with gender-neutral wording get 42% more responses. Test your job posting by running it through TotalJobs' Gender Decoder.
Finally, tell candidates what they can expect if they come to work for your company by listing benefits and perks. Do you offer competitive salaries? Stock options? Flexible work hours? Remote working? Generous vacation days? Any ancillary benefits that aren't typically offered? Let candidates know what makes your company a great place to work. Highlighting thes benefits in your job descriptions can help speak to your organization's mission and culture while also creating a welcoming opportunity for applicants.
Job Description Template
Sign up to get free access to exclusive content
Free Access
Take a look at the Academy Job Description Template to get an idea of how we structure job descriptions for open roles. If you still need help getting started, we recommend benchmarking against your competitors by searching for their job postings on LinkedIn and Glassdoor.