Hiring Managers
Part 2: How do I prepare to scale my UX team?
As your company grows, it's important to plan ahead and build a scalable process that will support your expanding UX team.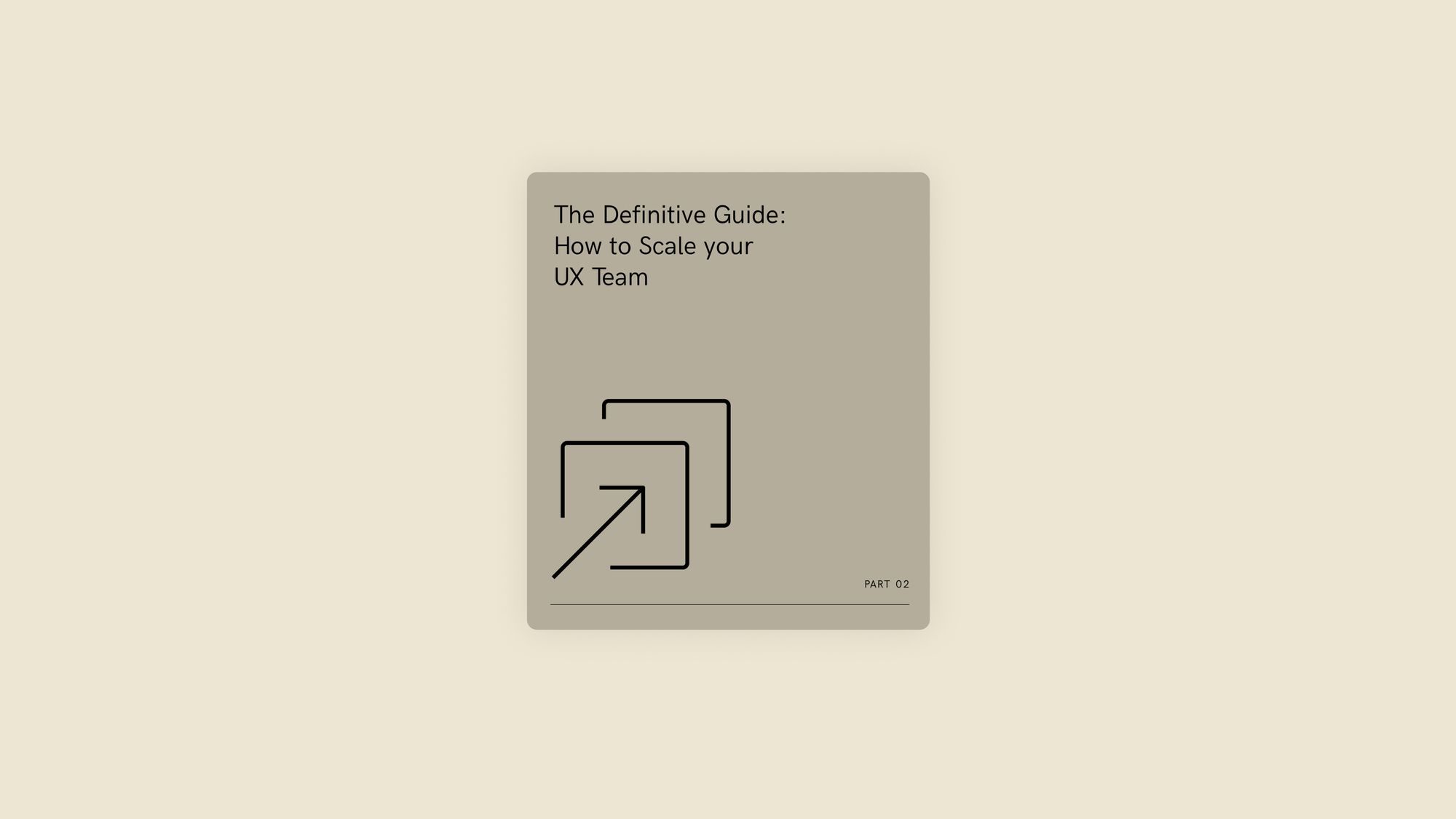 Identify company values
As with many management tasks, team strategy and documentation can be daunting and easily fall to the bottom of the weekly priorities list. At Academy, we believe establishing and communicating team values is an important exercise for organizations of all sizes.
One way is to work collaboratively with your team to define them through conversations and brainstorming sessions. Another way is to determine team values is by looking at the companies you admire most and identifying the values in their company culture that resonate with you.
Peter Merholz, the author of Org Design for Design Orgs and an industry-leading consultant, advises design organizations on how to operate more effectively by helping them build out the processes needed to grow. He recommends drafting a design team charter to align on values, build team confidence, and empower designers in their work. In his article, "Define your design team—here's an agenda for creating a charter," Peter outlines a path to crafting this charter through multiple small group sessions and activities.
Defining and evangelizing team values leads to a more cohesive and effective team and will help attract and retain top talent who believe in the mission and values of the company. Alignment within and across teams is always mission-critical and should be a top priority for any design leader. Once you've defined your team's values, you can develop a job description template and interview process to bring in candidates who align with those values.
Define an org structure
Whether you're starting a new UX team, ready to reorganize, or never had one to begin with, a clearly defined org chart illustrates growth opportunities, the quantity of each position you need to hire and will give your team confidence in the leadership and direction of the company.
Building an org chart requires a fundamental understanding and rethinking of how your team operates. You may be moving from a lean, mean group of unicorns who wear multiple hats, or maybe the current structure isn't working anymore. As design leaders, it's essential to see the big-picture initiatives and be able to put the right people and tools in place to meet those goals.
When I work with companies [who] ask for my support in scaling their organizations through recruiting and hiring, but then I find out that they haven't done their homework in really defining profiles and what are the roles and at what level they're hiring, it's hard to recruit with confidence.
—Peter Merholz, Consultant, author, and founder of Humanism at Scale
There's no doubt that hiring for more roles means more people to train and manage, which is time-consuming and can strain an already stretched team. As you create the org chart, consider bringing in senior leaders for each discipline or promoting within to identify formal managers. A defined and adequately-staffed reporting structure will create structure, hierarchy, and ownership in each domain.
Without this clear, supported reporting structure, individual contributors may feel the need to act as informal managers, leading to burnout, decreased productivity, and an impact on team morale. A well-communicated, formal chain of command allows the team to focus on projects and deliverables rather than where they fall within the organization.
Between overseeing the work and juggling leadership responsibilities with team dynamics, the last thing any design leader should focus on is renewing a Figma license. One thing we suggest to Academy partners who are scaling up is to consider bringing in a DesignOps professional to handle day-to-day operations by resourcing and planning, managing contractor relationships and maintaining the team's equipment, tools, processes and culture.
The job of the DesignOps team is to protect the time and headspace of everyone within the design organization, which allows everyone to focus on their respective craft.
—Collin Whitehead, Senior Director of Central Design at Dropbox
When teams grow quickly, it's essential to keep the ship sailing smoothly and be ready for any new hiring requests. DesignOps professionals can gather quantitative data on how the team spends their time, how to best structure and collaborate with other groups, and can even keep a pulse on the growing team's morale. If you want to learn more about DesignOps then we cannot recommend the DesignOps Assembly enough. They are a growing online community of DesignOps professionals that discuss many important topics as it relates to DesignOps.
Academy Tip:
If this process seems overwhelming or you struggle to get buy-in from department heads, an executive coach could be your secret weapon. We've compiled
a list of executive coaches we recommend
or have worked with in the past to get you started.
Create clearly defined career ladders
A career ladder is a great way to keep your employees motivated and engaged. It shows that you are invested in their future and are willing to invest in their development. This resource gives current and future employees a clear path and communicates the expectations for a role at each level. The Academy career ladder for Product Designers includes core competencies, behaviors, and strategy input that we expect from Product designers at every level.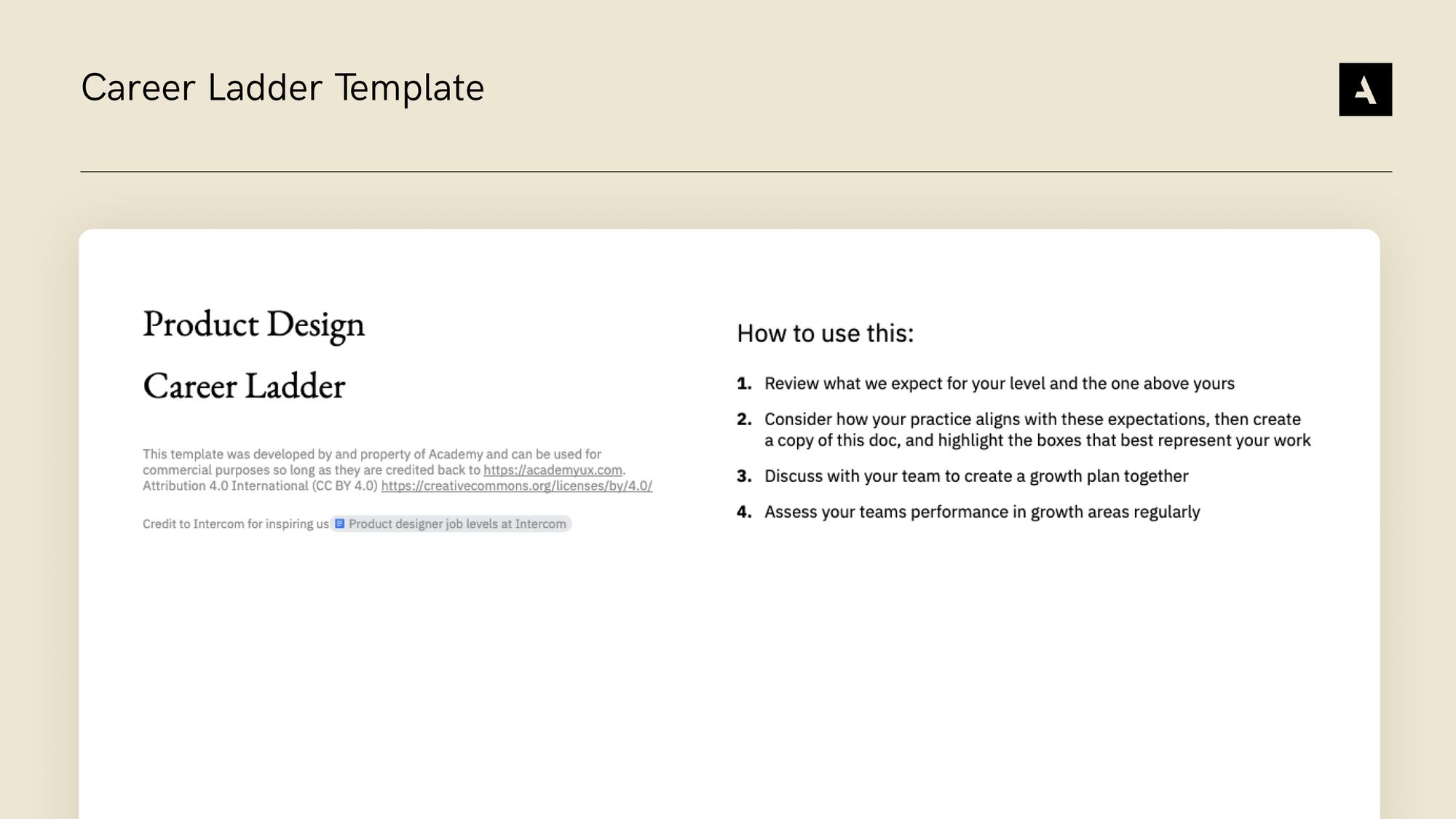 Career Ladder Template
Sign up to get free access to exclusive content
Free Access
Develop a long-term hiring plan and prioritize key hires
When scaling your design team, a good strategy is to hire the leaders first, train them and use them as leverage to attract new talent. Having the hiring plan roadmap in place will help you prioritize those pivotal roles that will support your team as you grow.
Hiring Managers need to be more involved in the hiring process…but once you have built up your leadership team and trained your recruiting team, then you can free up time by letting them hire the rest of the organization.
— Peter Merholz, Consultant, author, and founder of Humanism at Scale
Revisit your hiring plan often to identify gaps in the org chart or skills that might be missing as you grow. As you bring new leadership into the fold, align with them on the vision and long-term goals for scaling the team.
You may want to consider using a Hiring Prioritization Framework to help you stay organized.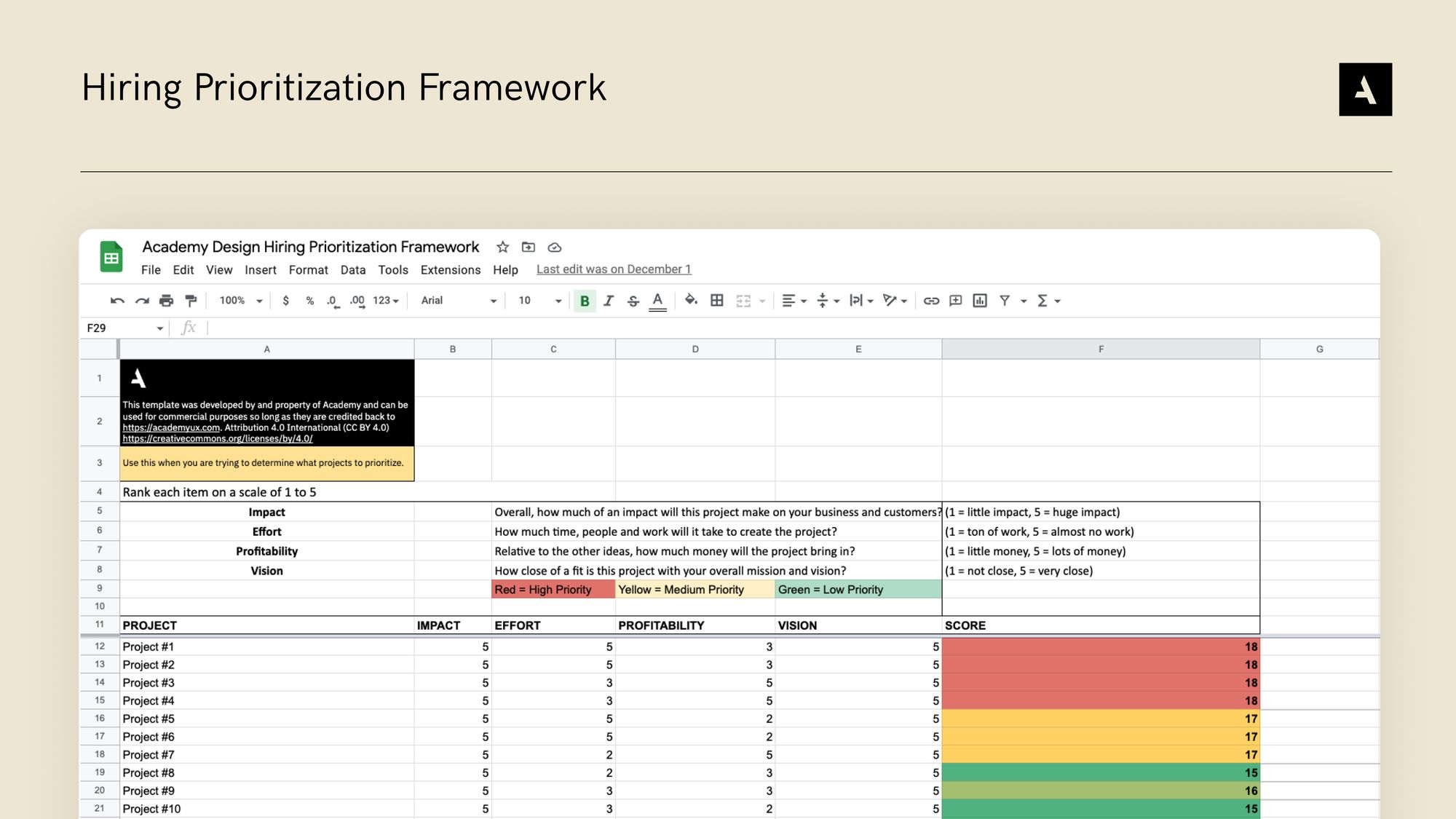 Hiring Prioritization Framework
Sign up to get free access to exclusive content
Free Access
Develop an onboarding process
Onboarding can take many forms. For established companies, onboarding might include a multi-week boot camp where new hires receive an extensive course in the organization's structure, business models, and processes.While at smaller startups, this process might be much simpler..
The impact of a proper onboarding process is critical. According to research from Glassdoor, companies with a strong process improve new hire retention by 82%, and productivity over 70%. Those who don't properly orient or train their employees may be more likely to lose them in the first year - costing valuable time and lowering morale.
New hires may have feelings of overwhelm and a desire to start contributing quickly. They also may feel an eagerness towards learning about the business, products (and customers), ways of working in order to get up-to speed as soon as possible.
The risks of not having a proper onboarding process are too high and can lead to confusion for the new employee, who can be lost and unmotivated without a clear direction of expectations and tasks. As well, it can mean slower productivity for your organization and less satisfaction amongst both existing employees and those just starting. It's important to invest time in getting everyone up to speed and making sure they have all the necessary tools, which includes more than just a practical understanding of the job itself. Taking the time with onboarding will ensure that your company runs smoother and that everyone involved is guided properly.
At Academy, we've developed an onboarding process and templates based on best practices we saw across the industry. Every organization will be a little different but we built this template as a guide to help you get started.
---
If you are looking to continue please click the link to Part 3 below: